Bongacams white label program reviews


Bongacams calls their affiliate and white label program bongacash and you can sign up here. Here are our experiences using this program from just about all the different angles. Also, if your new to this website what we offer is a growing webmaster resource page for information on white label adult cam programs. This is where you can rank your own experiences of all the adult cam white label programs. So let's dig into the newest white label cams program called Bongacams.
About the program: Operated out of Cypress, Bongacams has arrived on the scene in a major way primarily over the past 12 months. Clearly a major investment has been made both into the cams site itself as well as into their white label and affiliate programs. They show all the hallmarks of a company poised for a major growth. They honestly remind us alot of a new Chaturbate (all inclusive reviews at that link) but without the whole emphasis being on m—–tion shows and more being on adult cam shows of all kinds. I am not going to spend much time talking about the shows though, or at least not near as much as we are on the white label element of what Bongacams offers. What you will be concerned about most as a webmaster though promoting a white label cam site is two things. 1. Do they have enough models? Yes, they do, they've got a huge database of thousands of adult cam models now and at any given time there are 500 or more live. So the next thing is the stability of the site and the overall experience people will have on it. Is it good and does it appear to be professionally done. Absolutely is our answer. Again, it's fairly clearly when you use the site that very experienced business people have devised BongaCams and built out their white label offerings. In other words, professional are at the helm of this operation. Bongacams is based out of the Republic of Cyprus and their address is 69 Arch. Makariou III Ave., TLAIS TOWER, office 301, 1070, Nicosia.
Payment amount: BongaCams via BongaCash pays on a revenue share only basis and the commission amount paid by BongaCams is typically 20% but can go up to 25% based on volume. You can also make up to $2.50 per email for traffic from the U.S. and other highly developed countries. They accept all geo's! One thing some have complained about is the high threshold for payments. We can understand why it is $200.00. Think about it this way, they really only want serious webmasters who know what they are doing. The fact is webmasters who are good at promoting adult cams know that $200.00 can easily in a few days with a good high producing adult ad. This filters out those who are less than serious about promoting adult cam sites and let's them focus on rapid growth.
Payment methods: Bongacams offer Payoneer and Paxum as an alternative but prefers to pay out via bank deposits directly into your checking account. Really that is the easiest method to get payment anyway.
Creatives: As evidence to our observation about how well put together their program is take a look at the creatives page in the backend.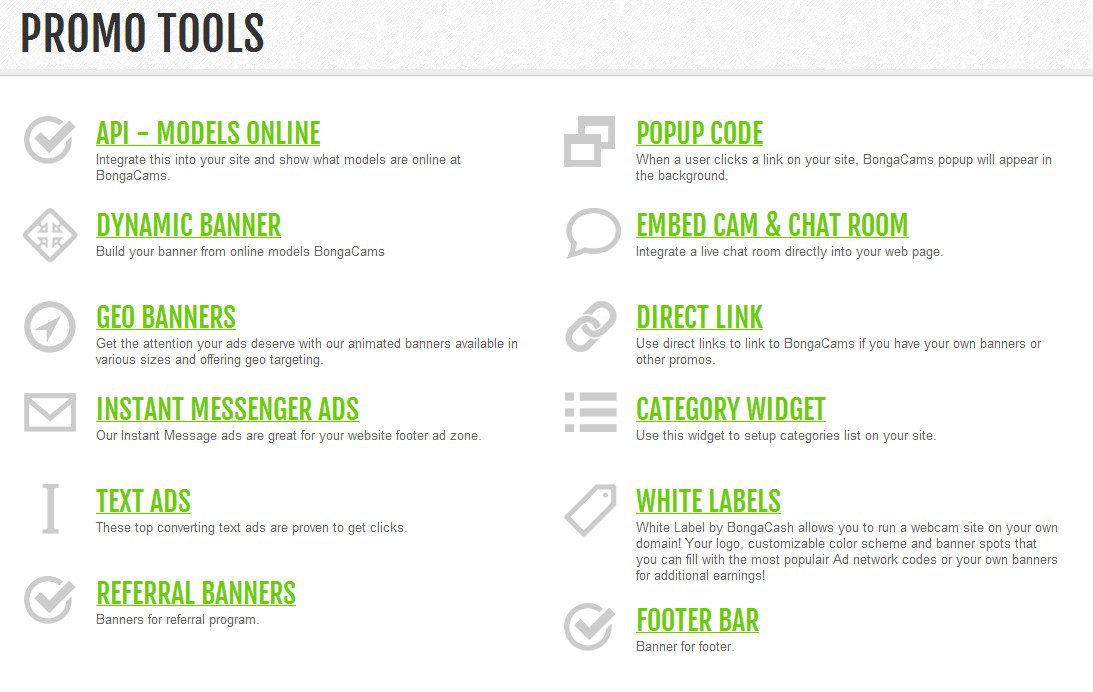 Conversion ratio: As I have shared in the past we tend to get 1 sign-up per 500 unique visitors when it comes to most adult cam programs. However, on sites like this and chaturbate, via your own white label brands you can expect a higher sign-up ratio. See below and you will not when we first started with BongaCams we experienced 1 signup for every 288 unique visitors we sent to our white label site with Bongacams. For all intensive purposes though you should not confuse sign-ups with conversions. You must  instead place more weight on paying sign-ups and deem those as conversions. This will give you a much better comparison of how well BongaCams white label cam sites convert compared to programs like WebcamWiz (program link) or AWE (review at that link).
This is a photo of the a weeks conversion ratio on Bongcams for our white label site: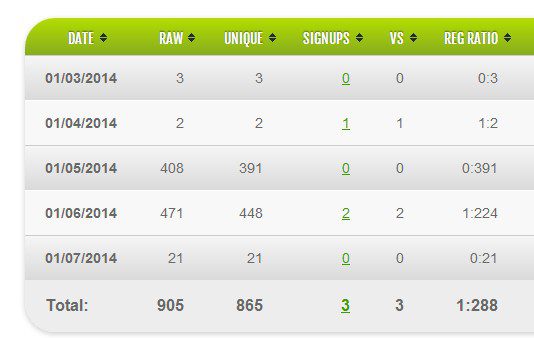 Shaving: We have full faith in Bongacams and no reason to believe they shave anything. They are by all accounts a very professional and stand-up company with relationships around the world. They have too much to lose to not be 100% fair with their publishing partners.
Affiliate representatives: We were a bit frustrated during the site set-up process over the A record changes which could have been better explained. (We suggest they make an illustration based on GoDaddy showing how to set-up your own adult cam site with BongaCams.com) However, we made it over the hump in a day of emails back and forth. The other thin you should be aware of is that you have to buy a private domain registration to set up a BongaCams white label site. It's required and they say that  if you let it lapse you can risk losing your site so I suggest you take that requirement seriously to avoid any issues. Overall the representatives at BongaCash were helpful and responses were rapid.
Editors opinion / Conclusions:  The newest white label adult webcam program which is called CamsPower is our top pick right now in this space but we are VERY happy so far with BongaCams in that this company seems like one that is poised for a lot of growth and as an early promoter of such a site your bound to do really well in the long term. Unlike LiveJasmin from AWE, too many cookies already on user computers are not a concern, and the ability to sign-up without a credit card is another upside. So YES I can suggest setting up an adult cam site with Bongacams. It's a smart play.

However, here is the game plan I would have. If you just operating 2 white label adult adult cam sites spend 30% this one and 70% of your advertising on one with CamsPower. We are constantly comparing the ROI's of different programs but based on my experiences this seems to be a good approach to spreading out your risk and also capturing the benefits of a new and exciting adult cam platform.
Attention adult webmasters: Have you been promoting your own cam site with Bongacams? If so share your experiences using ranking the Bongacash white label program according to all the metric below.
Bongacams white label affiliate program reviews

,