Chaturbate white label adult webcam affiliate program reviews
Chaturbate white label adult webcam affiliate program reviews


Chaturbate is another option to build your own adult cam site with very little work via their white label program. It's comparably a lot newer than AWE and white the conversions maybe higher you also have to seriously consider the dollars spent per customer as an adult webmasters. The reality is that these are more masturbation shows where dozens of men if not hundreds are merely watching and not interactive. They are referred to as, 'Greys' at Chaturbate meaning those that are not tipping and they make up the majority. This freeloading does lead to more and more people doing the same. That is a key reason why the traditional adult cam sites will render higher commissions. Therefore, when comparing white label cam sites and where to start your own adult cam site you really need to carefully consider which program will get you the best ROI, not just now but long term. Sure, you maybe able to get lots of free sign-ups on Chaturbate now but ask yourself if those will pay long term like they would on alternate white label cam site programs.
It's too early for us to tell but our white label sites are doing well across all the top programs due in part to the amount of marketing we are spending. We take the view that trying them all out is the best way to insure our efforts in case one program dominates the others.
About the program: Chaturbate is rapidly becoming a household name in adult cam industry. Chaturbate is just under 2 years old now but has grown to become one of the new leaders in adult cams in their specific niche. The actial company name is Zmedianow LLC and their address is as follows. 23600 El Toro Rd #D344, Lake Forest, California 92630.  They have thousands of adult cam models and offer webmasters the ability to start their own. All you the ability to market your own adult cam site and drive traffic. If you have an internet connection and a domain you can get started with your own adult cam site using the chaturbate white label program.
Payment amount: Chaturbate pays webmasters $1 per free registration which does not require input of a credit card. (That being said where the real money is at is with building a large list of registered users and choosing revenue share) There are also other ways to earn. They pay $50.00 if you recruit a male or female cam performer, and 5% in the affiliate referral space or if you refer someone who starts their own cam site. The revenue share commission amount paid by Chaturbate is 20%.
Here is a screenshot showing the Chaturbate whitelabel commission structure: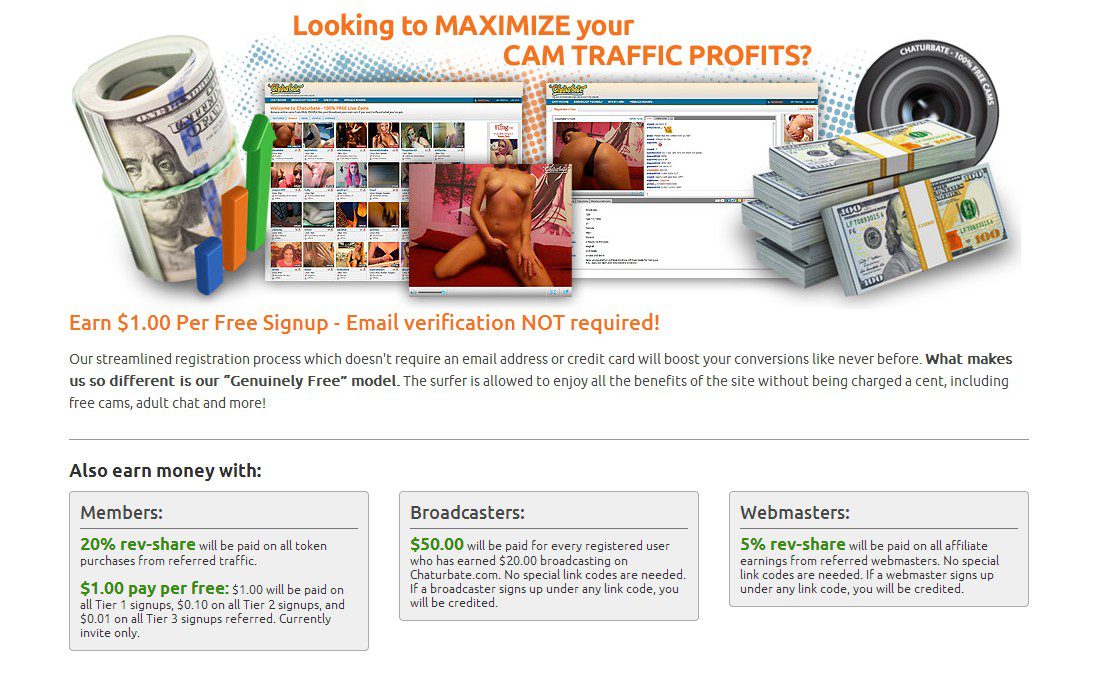 Payment methods: Paxum, Payoneer and Direct Deposit are all offered.
Creatives: We counted over 60 linking code creatives and so you shouldn't have any issues in that department. I like the fact that the back-end of the Chaturbate white label and affiliate administration panel is not full of useless creatives and is more focused simple on direct links. It makes it easy to find what you need without wasting time.
Conversion ratio: Whereas I see 1 in 500 is about average with many other cam affiliate programs we typically see about 1 in 320 will register free on chaturbate with a white label so this represents a little better than 25% conversion increase. Like I said though, you have to compare that with the average monthly spend of the users are to get a better picture.
Shaving: I have said it before and I will say it again, shaving happens in the industry but it's becoming very rare because it is so easy for top experienced adult cam webmasters to pick up on. We have complete trust in Chaturbate. They play fair and have better things to do than cheat anyone.
Affiliate representatives: Responses have been slow at times from Chaturbate and we've even had to go so far as emailing their ad network for support (support@exoticads.com). This is an area they need to really work on. Also the retrieve password button has had issues for us in the part. That being said, these things are minor. The site and program itself have operated fine at all times.
Editors opinion / Conclusions:  Chaturbate has a wide appeal and that will spur signups but don't let your excitement get the better of you. The bottom line is, if your registered traffic does not spend money than all those advertising dollars you spent will be wasted. I do like the Chaturbate white label program and we'll be continuing to be a partner well into the future, I would hedge my bets with putting 60% of your focus into the WebcamWiz white label program. Our top pick right now.

Thereafter, I would spend 20% of my efforts on Chaturbate with a single white label cam site of your own. Also, if your not interested in creating your own adult cam site with Chaturbate you can promote Chaturbate as a brand as well with their affiliate program and you will see that your conversions will be even better since Chaturbate as a brand is becoming quite well known leading to more trust of the site from the traffic you drive to their site. 
Attention webmasters: Please rank Chaturbate white label adult webcam affiliate program, only if you have used it in the past year or are currently using it. Thanks for your help!
Chaturbate white label adult webcam affiliate program reviews

,